Sr. Moderator: CEPS, TL, S&G
Staff member
Joined

Jun 6, 2011
Messages

14,692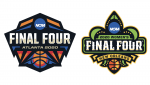 ​
The
2019–20 NCAA Division I men's basketball season
will begin on
November 5, 2019
. the first tournament will be the
2K Sports Classic
and the season will end with the
Final Four
in
Atlanta
on April 6, 2020. Practices officially began in late September.
Notable rule changes:
The three-point line was moved from its prior distance of 20 feet 9 inches (6.32 m) from the center of the basket to the FIBA standard of 6.75 meters (22 ft 2 in). The NCAA published diagrams on June 17, 2019 reflecting the new three-point line, including its distance from the sidelines near the corners of the court. In the corners, the three-point line is exactly 40 1⁄8inches (102 cm) from the sidelines, resulting in the shortest three-point distance being essentially identical to the FIBA standard of 6.6 meters (21 ft 8 in).[4] This change takes immediate effect in Division I, but will be delayed to 2020–21 for Divisions II and III.
On offensive rebounds in the frontcourt, the shot clock is now reset to 20 seconds instead of the full 30.
Any derogatory on-court comments regarding a player's race, ethnicity, religion, gender, sexual orientation or disability result in a flagrant-2 technical foul and automatic ejection.
Two new rules apply during the last 2 minutes of regulation and the last 2 minutes of any overtime period:
Coaches are allowed to call live-ball timeouts. Previously, coaches were prohibited from calling live-ball timeouts at any time.
The list of calls that can be reviewed via instant replay expanded to include basket interference and goaltending.